Monday, April 16th, 2012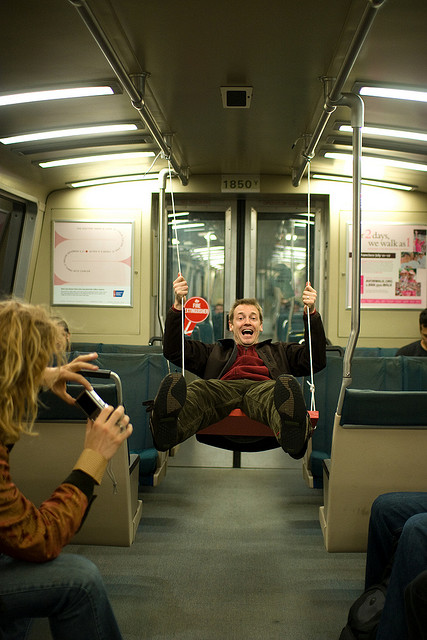 Each of these apps makes transit more efficient or convenient. Together, they can do something almost magical: make transit attractive to urbanites who previously saw owning a car as a necessity.
Planning your trips
These apps try to find the best way to reach your destination by combining timetables from multiple transit agencies:
Google Maps[Learn more] shows your current location along with walking, transit, or driving directions. In the iPhone app, you can double-tap the locator button to align the map with the iPhone's compass.
HopStop[iOS | Android] lets you specify whether you prefer trains or buses, and whether you prefer walking or waiting for a transfer. It shows a zoomed-in map for each transfer.
Reroute.it lets you quickly compare modes of transportation before getting directions.
Catching your ride
Routesy, Nextime, and Nextbus use real-time transit data to help you make quick decisions on familiar routes. For example, you'll know when to walk to your stop, when to run, and when to wait inside.
Not missing your stop
A location-based alarm, such as Get Off Now or GPSAlarms, can allow you to nap, read, or work without worrying about missing your stop.
These apps can run in the background and have surprisingly little effect on battery life. They use power-hungry GPS only when cell/wifi location data indicates that you are somewhat close.
Staying productive and entertained
One of the biggest advantages of public transportation is being able to get things done while in transit. Some people check email, watch TV shows, or even order from Chipotle using their phones.
I often use time on the train to read articles. Whenever I find myself with too many Wikipedia tabs open, I send them to my phone using the Instapaper or Spool bookmarklet. Sometimes I read books on my phone using the Amazon Kindle app.
Getting a car when you need one
The Zipcar app lets you borrow cars from Zipcar locations, while Getaround lets you borrow cars from awesome neighbors.
Or you can pay for a ride using Taxi Magic or Uber.
More reading
Some transit authorities recommend apps for their cities: San Francisco, New York, Chicago, Seattle, and Portland, Oregon.
In my next posts, I'll list my ideas for new transit apps and explain how platforms could better support location-aware apps.