Michelle, Lauren, and I stumbled on a strong illusion last night. It's similar to the checkerboard illusion but involves color rather than just shades of gray.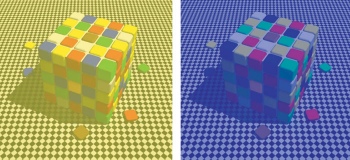 The "blue" tiles on top of the left cube and the "yellow" tiles on top of the right cube are actually the same shade of gray.
Articles that talk about this illusion: American Scientist: Why We See What We Do and Discover Magazine: Sensory Reflexes. (The authors of the American Scientist article wrote a book with the same name.)
Berkeley's dilemma (as described by the American Scientist article) reminds me of Quine's Gavagai problem in the acquisition of language. Berkeley's dilemma is that retinal images are inherently ambiguous -- for example, there's no difference in the retinal image created by a large object at medium distance and a small object at a large distance. In the Gavagai problem, an island native points to a rabbit and says "gavagai". Do you interpret "gavagai" as "rabbit", "there goes a rabbit", "white", "animal", "hopping", "it's a nice day", "cute", "lunch", or something else?
Both Berkeley's dilemma and the Gavagai problem are problems of infinite ambiguity. Humans have clever heuristics for dealing with both problems. Examples include color constancy and overestimation of acute angles in visual perception, and the whole-object, taxonomic, and mutual-exclusivity assumptions children use to interpret new nouns.