Delicious Delicacies
Restore the legend
Firefox's privacy options panel contained the text "Cookies are delicious delicacies" since version 0.1, when it was called Phoenix.
On July 24, 2004, a Firefox developer replaced this text with "Cookies are pieces of information stored by web pages on your computer. They are used to remember login information and other data."
This Firefox extension lets you restore the famous placeholder text.
Install Delicious Delicacies 0.5 for Firefox 1.5. (See below if you're using Firefox 1.0.7.)
Screenshot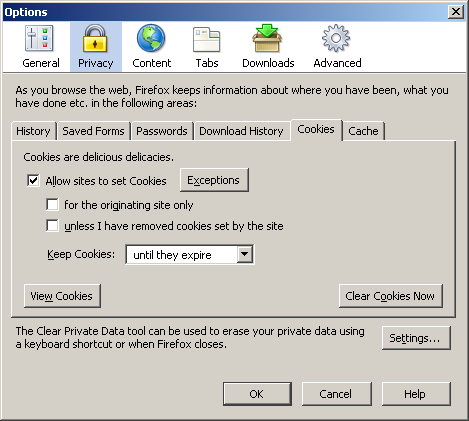 Changelog
Delicious Delicacies 0.5 (2005-11-23)
Partially rewritten for Firefox 1.5 with help from Mook.
Delicious Delicacies 0.4.2 (2004-12-05)
Delicious Delicacies 0.4.1 (2004-11-14)
Added Polish translation: Ciasteczka to przepyszne pyszności. (Marek Stepien)
Delicious Delicacies 0.4 (2004-11-13)
Added German translation: Cookies sind leckere Leckereien. (Moritz Morty Strübe)
Added French translation: Les cookies sont de délicieux délices. (Xavier)
Delicious Delicacies 0.3 (2004-10-23)
Delicious Delicacies 0.2 (2004-09-11)
Fixed an XML parsing error in Aviary branch builds 2004-09-08 and later (including Firefox 1.0 Preview Release). Thanks to Dave Arter for finding the bug and Ben Goodger for figuring out the cause (a typo).
Delicious Delicacies 0.1 (2004-08-22)
Known bugs
Delicious Delicacies 0.5 causes the preferences window to be larger than it should be if browser.preferences.animateFadeIn is set to true and you start with the General pane selected and then click to switch to the Privacy pane. I guess this extension modifies the DOM at a time when either XUL layout or preferences window code doesn't expect it to be modified. I don't know whether this is a bug in the extension or a bug in Firefox 1.5. (browser.preferences.animateFadeIn is usually true on Mac but not on Windows or Linux. I only tested on Windows.)